SaD European Metallica Tribute Live @ F23 im Turn- und Festhalle Freudenstadt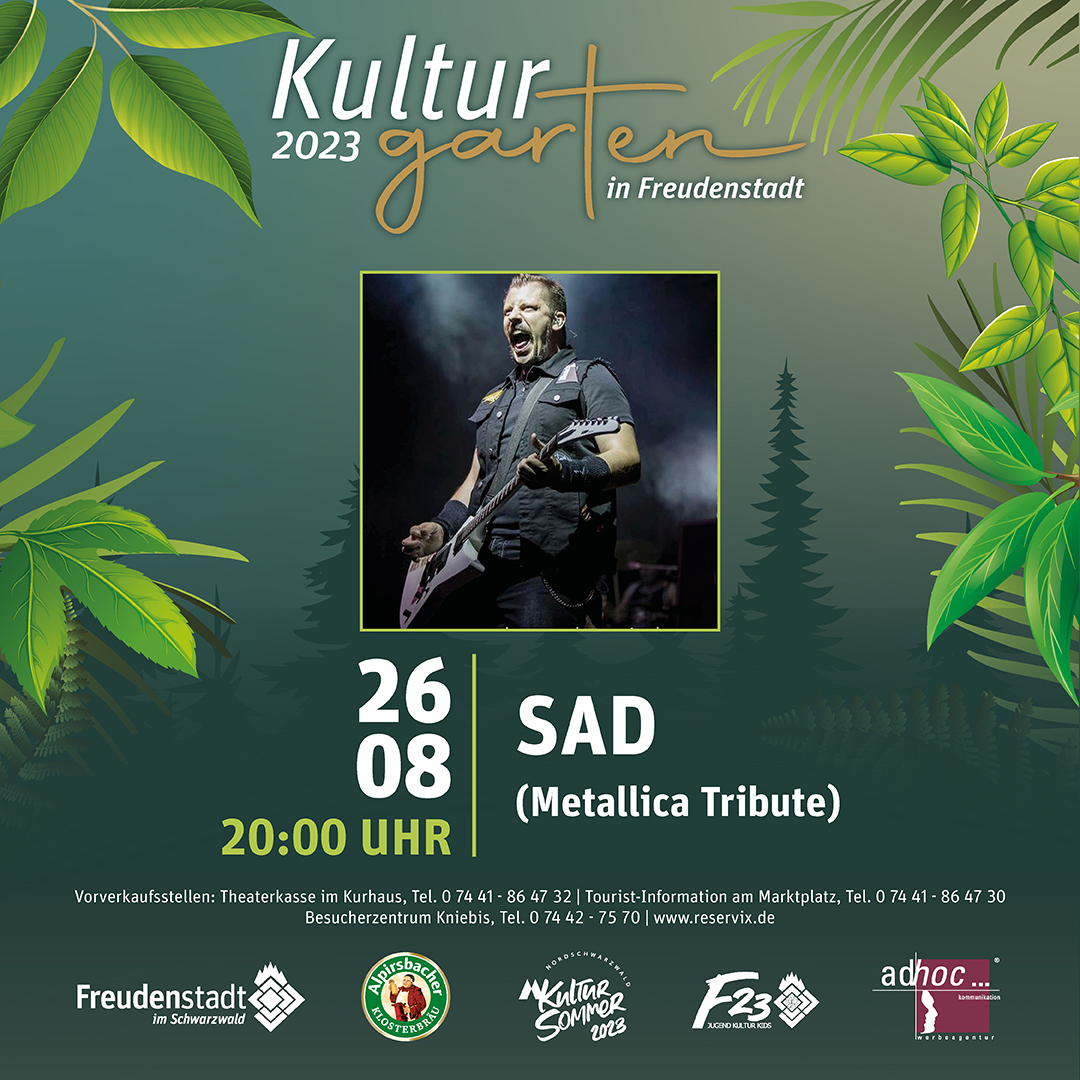 IMPORTANT: due to uncertain weather forecast the event has been moved from Kulturgarten Freudenstadt to —> Turn- und Festhalle Freudenstadt which is an indoor venue, weather safe and independent.
Ab 20 Uhr am 26.08.2023. Einlass ab 19:00 Uhr
SAD aus Italien sind ohne Frage eine der heißesten Live Rock'n'Roll Metallica Tribute dieser Tage! Mit 110 Millionen verkauften Tonträgern ist Metallica sicherlich die erfolgreichste Metal Band überhaupt.
Seit vielen, vielen Jahren thront die Gruppe aus Kalifornien im Rock Olymp ganz oben. Metallica in ihrem Sound und ihrer Show zu imitieren, ist sicherlich eine der schwersten Aufgaben, der sich eine Tribute Band stellen kann. Und dies scheinen die Südländer von SAD bravourös zu meistern.
2007 wurden SAD von "ZONAMETALLICA", dem offiziellen italienischen Metallica Fan Club, zur besten Metallica Tribute-Band gekürt. 2008 erhielt die Band den Ritterschlag, als sie von Metallicas U.S.-Fanclub "METCLUB" anerkannt und autorisiert wurde. Metallica-Konzerte sind spektakuläre Erlebnise – nicht nur mit den Originalen. Die italienische Band "SAD" gilt als eine der heißesten Live Rock'n'Roll Metallica Tribute dieser Tage. Mit Songs wie "Enter Sandman", "Master of Puppets" und Co. bringen SAD mehr als genügend Initialzündungen, um ihr Publikum tanzend, grölend und headbangend in die Metallica-Himmel zu schicken.