SaD Symphony & Metallica | Live Club Trezzo Sull'Adda Milano
December 1 @ 21:00
€30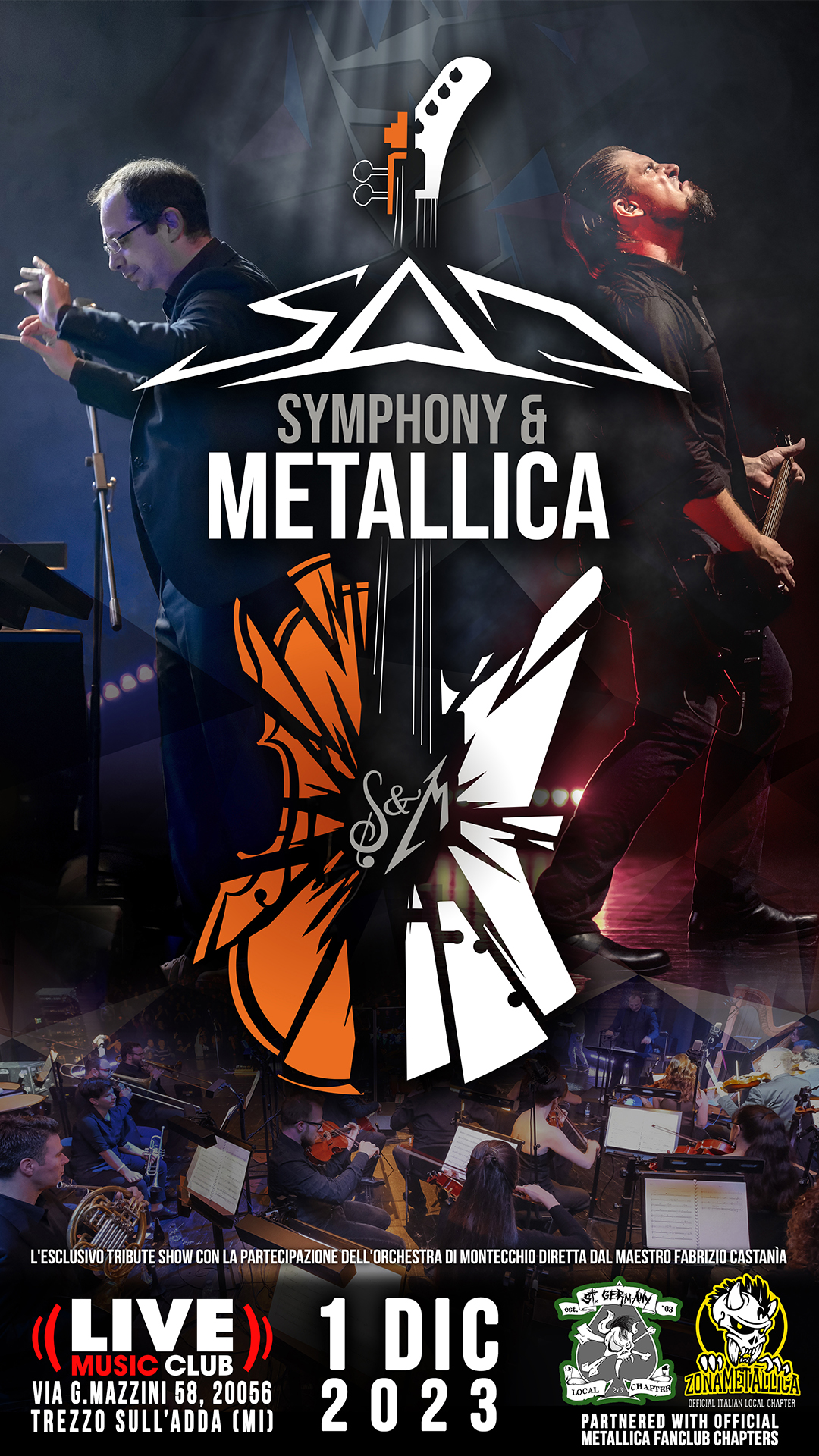 🎫 Biglietti in vendita nei circuiti di:
Ticketone
https://www.ticketone.it/event/sad-symphony-metallica-live-club-16896127/
Mailticket
https://www.mailticket.it/manifestazione/YK35/sad-symphony-and-metallica 
Concerto metal a Milano? Una serata con orchestra sinfonica?
Torna nuovamente, in un'unica data italiana, il "SaD – Symphony & Metallica", il tribute show nel quale i SAD – European Metallica Tribute, con la partecipazione dell'Orchestra Sinfonica dell'Accademia del Concerto di Montecchio, diretta dal Maestro Fabrizio Castanìa, porteranno in scena il celebre evento realizzato dai Metallica nel '99 con la San Francisco Symphony Orchestra.
Il concerto è supportato dai fanclub ufficiali "Zonametallica – Italian Metallica Local Chapter #350" e "St. Germany – Local Chapter of the Metallica Club #273".
Early entry: ore 19.30
Apertura porte: ore 20
Inizio spettacolo: ore 21
Prezzo biglietto in prevendita:
Platea: €30 +dp
Platea early entry: €36 +dp
Isola 1 e 2 con posti a sedere numerati: €42 +dp (ESAURITI)
"𝐒𝐚𝐃 𝐒𝐲𝐦𝐩𝐡𝐨𝐧𝐲 & 𝐌𝐞𝐭𝐚𝐥𝐥𝐢𝐜𝐚" 𝐌𝐞𝐭𝐚𝐥𝐥𝐢𝐜𝐚 𝐓𝐫𝐢𝐛𝐮𝐭𝐞 𝐒𝐡𝐨𝐰 𝐰𝐢𝐭𝐡 𝐎𝐫𝐜𝐡𝐞𝐬𝐭𝐫𝐚 | 𝟏 𝐝𝐢𝐜𝐞𝐦𝐛𝐫𝐞 𝟐𝟎𝟐𝟑 🔥
https://www.liveclub.it/sad-symphony-metallica-tribute-orchestra/
⭐️ 𝐷𝑖𝑠𝑝𝑜𝑛𝑖𝑏𝑖𝑙𝑖 𝑝𝑟𝑒𝑠𝑠𝑜 𝑙𝑒 𝑏𝑖𝑔𝑙𝑖𝑒𝑡𝑡𝑒𝑟𝑖𝑒 𝑎𝑛𝑐ℎ𝑒 𝑡𝑖𝑐𝑘𝑒𝑡 𝑙𝑖𝑚𝑖𝑡𝑎𝑡𝑖 𝑐𝑜𝑛 𝑓𝑜𝑟𝑚𝑢𝑙𝑎 𝑒𝑎𝑟𝑙𝑦 𝑒𝑛𝑡𝑟𝑦 (𝑖𝑛𝑔𝑟𝑒𝑠𝑠𝑜 𝑎𝑛𝑡𝑖𝑐𝑖𝑝𝑎𝑡𝑜) 𝑜𝑝𝑝𝑢𝑟𝑒 𝑝𝑒𝑟 𝑙'𝑎𝑐𝑞𝑢𝑖𝑠𝑡𝑜 𝑑𝑒𝑖 𝑝𝑜𝑠𝑡𝑖 𝑎 𝑠𝑒𝑑𝑒𝑟𝑒.
Sito Web ufficiale dell'evento